Four Side Wood Planing Machine Applications
Boards, Straightening on 4 sides, planing on 4 sides, eliminating the crooked/raw parts of the wood, perfect boards removing wood imperfections, profiling, excavations, handrails, door frames, skirting boards, frames, window frames, match-boarding, wood cutting, shutters and sills for windows, beams.
Four Side Wood Planing Machine Main Features
1)   This adopts step-less material feeding,material feeding speed ranges from 6 to 45 m/min.
2)   Each main shaft is driven by independent electric motor,cutting force is powerful.
3)   Spiral cutter of woods equipment comes with carbide tips is optional for you.
3)   Main shaft is adjusted to force on the front, operation is convenient.
4)   Hard chrome plating work table is durable.
5)   Equips with auxiliary unit alarming lack of material, it effectively improves smooth feed-in while lack of material.
6)   Multi-group drive rollers improve feeding efficiency.
7)   International brands electical parts are applied for good stability.
8)  Spare parts are thick and solid to maintain high precision, high stability and high reliability.
9)  Pneumatic compressed feeding roller is applied, the pressing force can be adjusted by stages which is favorable for smooth feeding of timbers with different thickness.
10) Completely sealed safety shield can avoid flying of saw dust and isolate noise efficiently and protect operators.
11)  To get assembly accuracy and the guarantees for reasonably ensure machines quality, we have invested in high precision machining equipment at our factory and have been committed to produce key parts of our planers.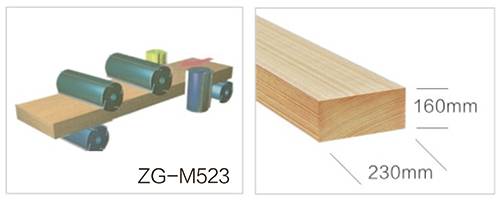 Working Diagram and Processing Size

Up&down active feeding wheel, ensures feeding smoothly.
Short feeding device, ensures short material processing and feeding smoothly.