MJ3971Ax400 Timber Horizontal Band Saw Machine Features
1. The motor drives with imported frequency converter control speed: Ensure feeding stable ,improve precision and save cost.
2. All-welded machine body, use steel with national standard ,Taiwan PBI ball screws, wide column: Ensure machine body strength, not easy to change sharp, and more durable.
3. The work processing of saw wheel is advanced ,stable, wearproof , the saw blade is not easy break.
4. CHNT China famous electric components(Standard). Siemens Schneider and other imported electrical components:  Electric Box durable, not easy to damage (Optional)
5. Automatic tension : Rexroth guide way with tension system makes the saw blade more durable, and save cost.
6. The conveyer belt is driven by hydraulic motor, which provides steady operation, constant and powerful driving force, so as to ensure the workpiece is smooth.
7. Kerf in 1.1-1.6mm, 20% save  compared with other cutting methods, effectively reduce costs.
8. All ready-to-ship machines inspected by overseas dept. staff indepedently with detail photo and video to customers. We are trying all the best to insure your worry-free on both purchasing and running of all our machines.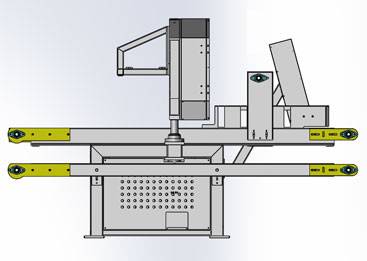 Side View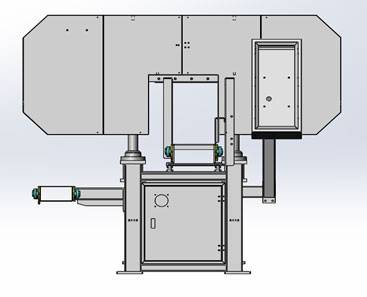 Top View